Tax Breaks for College Costs
College is expensive, and the costs continue to rise. For the 2016–17 academic year, the average cost of in-state tuition, fees, and room and board at a public university is $20,090. At a private school, the average cost is more than double at $45,370.1
Fortunately, the federal government offers tax benefits that can help ease the financial strain. These tax provisions apply to tuition and fees required for enrollment or attendance, but not for room and board expenses. You cannot take more than one education tax benefit for the same expense or for the same student during a tax year.
Qualified expenses may be paid by the parents, the student, or even a third party. In order for parents to claim the expenses on their federal tax return, the student must be claimed as an eligible dependent. If the student is not claimed as an eligible dependent on anyone else's return, the student may claim the expenses. A credit reduces your tax liability dollar for dollar, whereas a deduction only reduces your taxable income.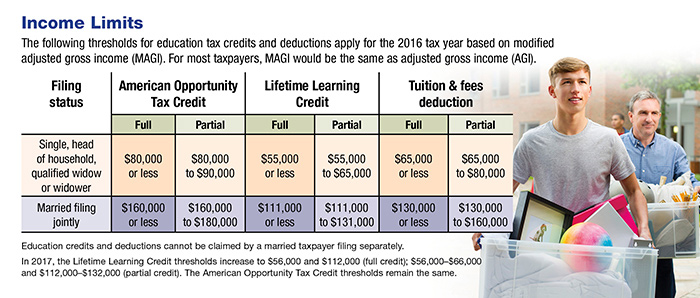 Education Credits and Deductions
American Opportunity Tax Credit — a maximum annual credit of $2,500 for each eligible student's first four years of undergraduate education. It is calculated as 100% of the first $2,000 of qualified expenses plus up to 25% of the next $2,000 of such expenses. In addition to tuition and fees, the credit may be applied toward expenses for books, supplies, and equipment required for attendance. The student must be pursuing a degree and enrolled at least half-time for one academic period during the tax year. If the credit reduces tax liability to zero, up to 40% of the credit ($1,000) is refundable.
Lifetime Learning Credit — a nonrefundable credit limited to $2,000 per year (20% of the first $10,000 of qualified tuition and fees), per tax return, even if you have multiple students in the household. It applies to all years of post-secondary education, so the credit can be used for graduate school or for undergraduate education after the student uses all four years of the American Opportunity Tax Credit. It also applies to job-development courses even if the student is not pursuing a degree.
Tuition and Fees Deduction — an "above-the-line" tax deduction of up to $4,000 for qualified tuition and fees (scheduled to expire at the end of 2016 unless Congress takes action). The deduction is typically used for a student who is not eligible for an education tax credit.
Determining Qualified Expenses
If you paid tuition and fees during a tax year, you should receive Form 1098-T, Tuition Statement, by January 31 of the following year. Generally, you must reduce the amount of qualified expenses shown as paid or billed on the form by the amount of tax-free educational assistance, such as grants or scholarships. However, if scholarships or grants are reported as income on the student's return and the funds may be used for nonqualified expenses (such as room and board), they do not have to be subtracted from qualified expenses on the parents' return.
Education credits and deductions are subject to income limits (see chart). If you have questions about the appropriate treatment of educational expenses on your return, be sure to seek advice from a tax professional.