Are UITS for You?
When you invest in mutual funds, you are actually buying shares in an investment company. A unit investment trust (UIT) is also an investment company, but it is structured differently than a mutual fund company and offers unique features that may appeal to some investors.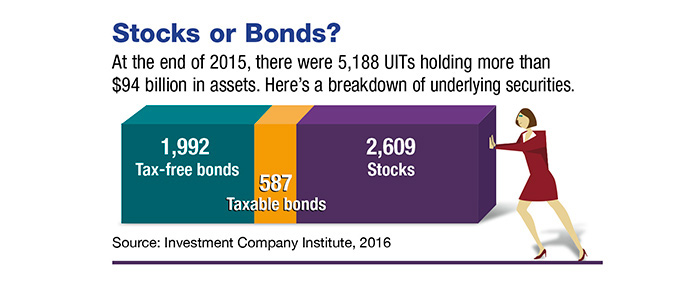 A Fixed, Time-Limited Portfolio
A UIT purchases a portfolio of stocks or bonds and sells shares of the portfolio — called "units" — to individual investors. Once the investments are selected, the portfolio is generally designed to be fixed, with a specified termination date, thus offering investors a relatively clear picture of its holdings throughout the life of the investment. All UIT dividend and interest payments are distributed as they are received and generally can be reinvested. Distributions are not guaranteed.
When a UIT reaches its termination date, the trust is dissolved and proceeds are paid to investors. The sponsor may offer investors the opportunity to roll over the proceeds to a new UIT on a tax-deferred or non-tax-deferred basis, depending on the structure.
Working with defined termination dates could be useful in staggering investments, similar to building a bond ladder with individual bonds. Bond-based UITs typically hold a varied portfolio of bonds with maturity dates that coincide with the trust termination date, so investing in bond UITs with different termination dates may provide an opportunity to reinvest assets at different times within a changing interest-rate environment. Stock-based UITs might offer a similar opportunity to reinvest under varying market conditions.
Most UITs issue only a specific, fixed number of units, but some trust sponsors maintain a secondary market where outstanding units can be bought and sold. If you're interested in adding a unit investment trust to your portfolio, be sure that you understand the underlying investments, the termination date, and other provisions.
The return and principal value of UITs, stocks, bonds, and mutual funds fluctuate with changes in market conditions. When sold, UIT units, stock and mutual fund shares, and bonds redeemed prior to maturity may be worth more or less than their original cost. UITs might carry additional risks, including the potential for a downturn in the financial condition of the issuers of the underlying securities.
UITs and mutual funds are sold by prospectus. Please consider the investment objectives, risks, charges, and expenses carefully before investing. The prospectus, which contains this and other information about the investment company, can be obtained from your financial professional. Be sure to read the prospectus carefully before deciding whether to invest.